Cold pressed | Essential Fatty Acids
Regular price
Sale price
Rs. 305.00
Unit price
per
Sale
Sold out
Best cold pressed edible neem seed oil to add nourishment, and wellness to your body, hair & skin. Use this organically produced one bottle for multiple uses – in skin care, hair care, health & wellness to reap its benefits.
100% Raw, vegan, no preservatives, cold pressed with seeds sourced from farmers & Sustainable
SUITABLE FOR - Eat & Apply 
Highlights
International Organic certified

Our products are COSMOS certified, UK cert certified, USOCA Organic Certified.

Quality guaranteed product

We are proud of what we make because we make everything with pure ingredients minimally processed through our traditional technique to retain nutrients, aroma & wholesome goodness. So we believe that once you try you will feel the difference and fall in love with purity. However we understand that every product does not work for every body hence we have made it easy for you to try our products without any risk.

We offer a full product satisfaction guarantee. If it turns out that a product isn't for you we will happily exchange the product Once for you, costing you only the to & fro shipping to try a different product. Just make sure to get back to us within 2 weeks of its delivery.
All that we want from you is just the feedback as this helps us understand and continue to create natural daily use products so please stay true to us to help us serve you the best.

GMO Free

The ingredients used in the product are free from GMO's

Tested on Humans

All our products are tested on humans. Be it ready to use products or ingredients of the products, all testing is performed on humans. All products are made using time -tested & edible ingredients and no chemicals.

CO2 Neutral certified

We make use of manpower for making our raw material & final product with minimal processing using traditional techniques. Our reliance on electricity or machinery is negligible as we can produce SNAANA products on a day with no electricity. To neutralize logistics etc. related emission, we have developed our own fully sustainable fruit orchard with more than 1700 trees.

100% chemical free

We make no use of chemicals/synthetics at all. Hence the nutrition, texture, aroma, colour are all derived from the ingredients like cold pressed oils, essential oils, ark etc. 
100% preservative free

We bring authentic, age old formulations where modern day preservatives were just not known to humans. We do not alter the physical form of the ingredients and retain the nutrition in their original state with just hand processing similar to achar making. A jar of achaar lasts for years without preservative if made the traditional way.
Connect with Farmers

Since we work to bring unaltered goodness, pure blends, which is possible only through our connect with farmers that provide us with genuinely good quality raw material in the forms of nuts, seeds, roots, stems, petals, leaves, barks etc.

Dermatologically Tested

All our products are tested in the lab for various parameters like pH, heavy metals, microbial etc. and tested on humans by dermatologists.

Transparency

We are the only brand who stay very much true to claims like NATURAL, CHEMICAL FREE, ORGANIC etc. We bring videos to you to show all our working from farms to bottles and jars. We list all ingredients in common parlance to ensure our consumers understand easily what all is the part of the product they are likely to use. 
Ingredients

Cold pressed Neem oil only.
USP

100 ML= U.S.P (PER ML) Rs. 3.05/-
200 ML= U.S.P (PER ML) Rs. 1.95/-
500 ML= U.S.P (PER ML) Rs. 1.5/-
1 LITER = U.S.P (PER ML) Rs. 1.34/-
Manufacturer Details

Aadhunik Ayurveda Vitals

Khasra No.-79, Gali No.1, Titan Road,

Mohabewala, Industrial Aria, Dehradun

248001 Uttarakhand
Guaranteed SAFE Checkout
FREE Worldwide shipping on orders worth Rs. 15,000 & above
View full details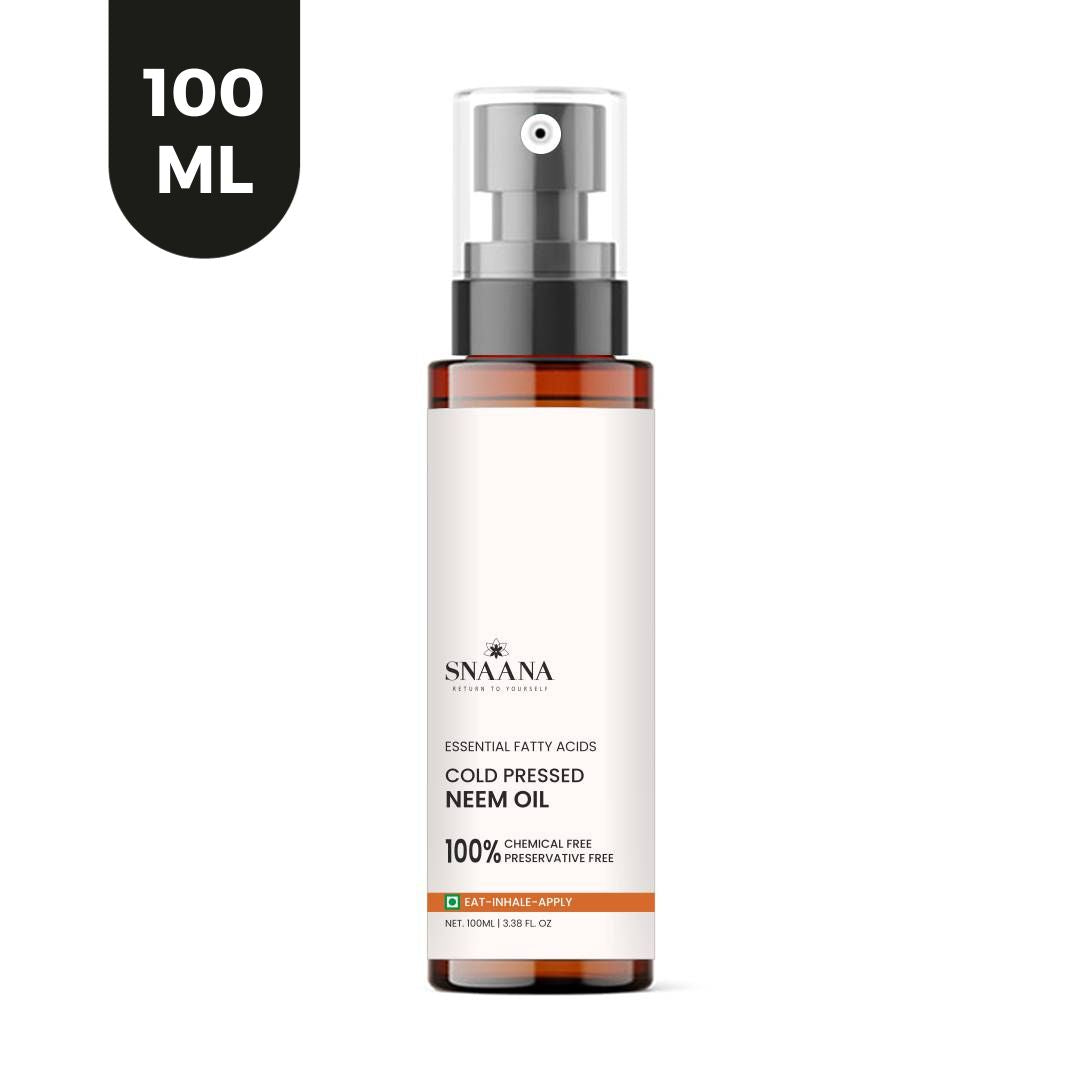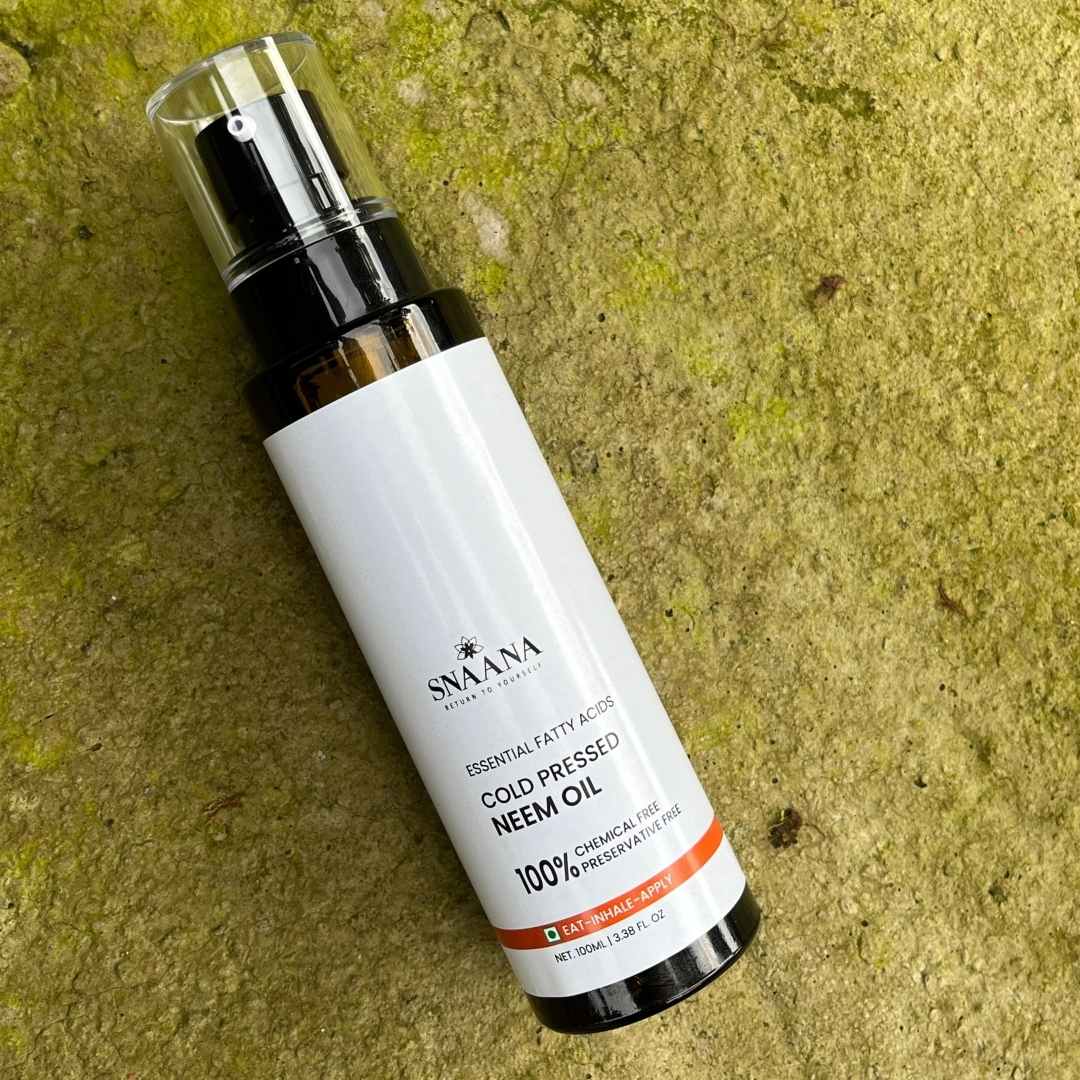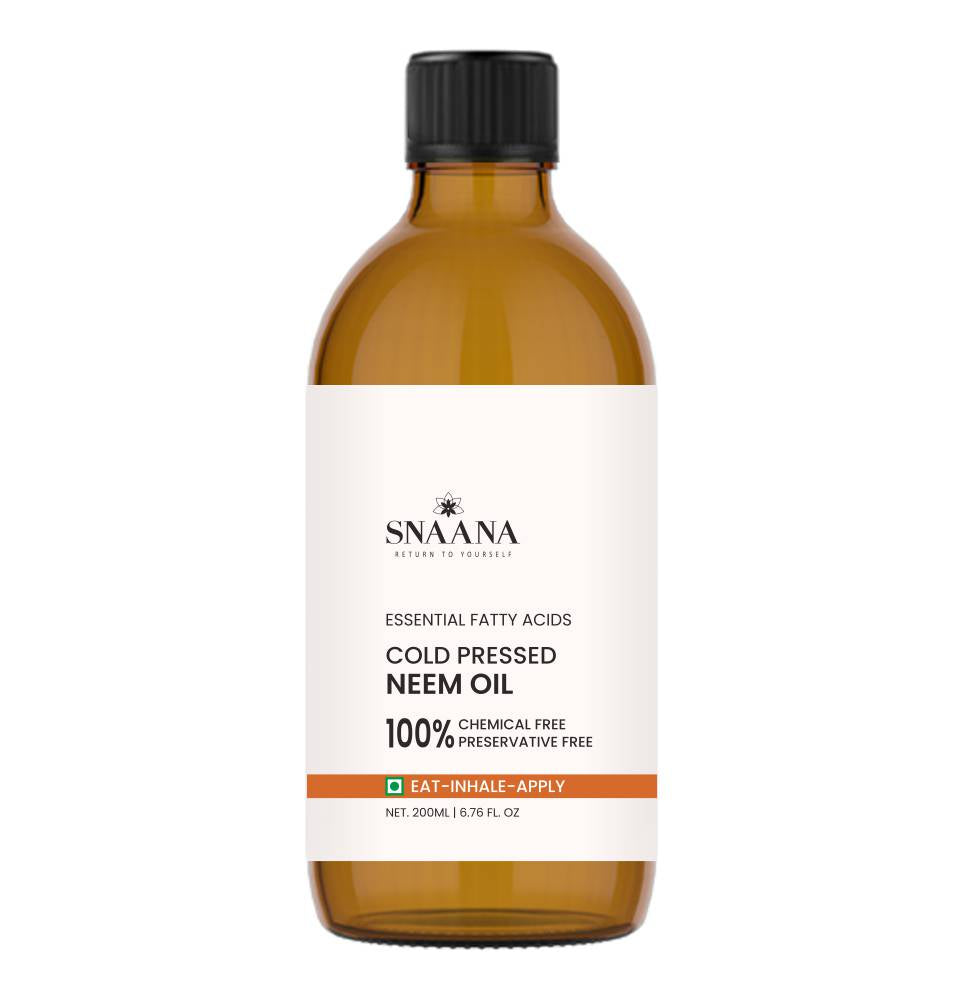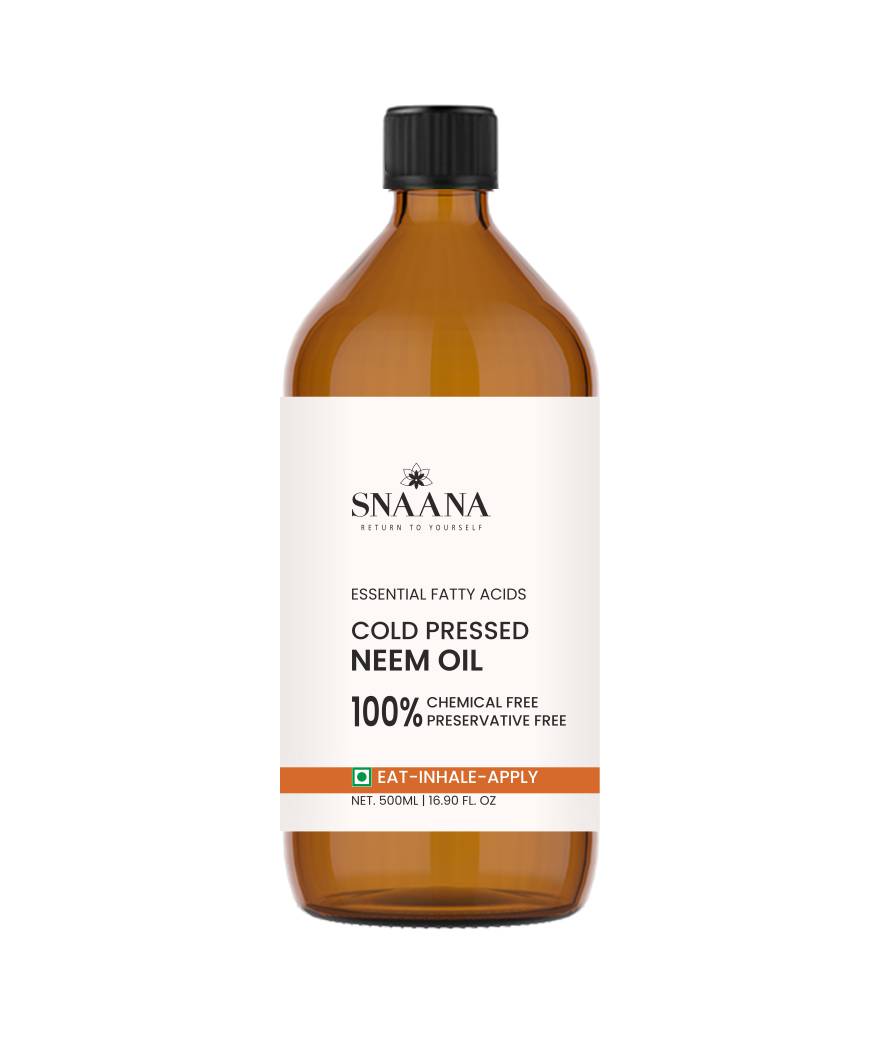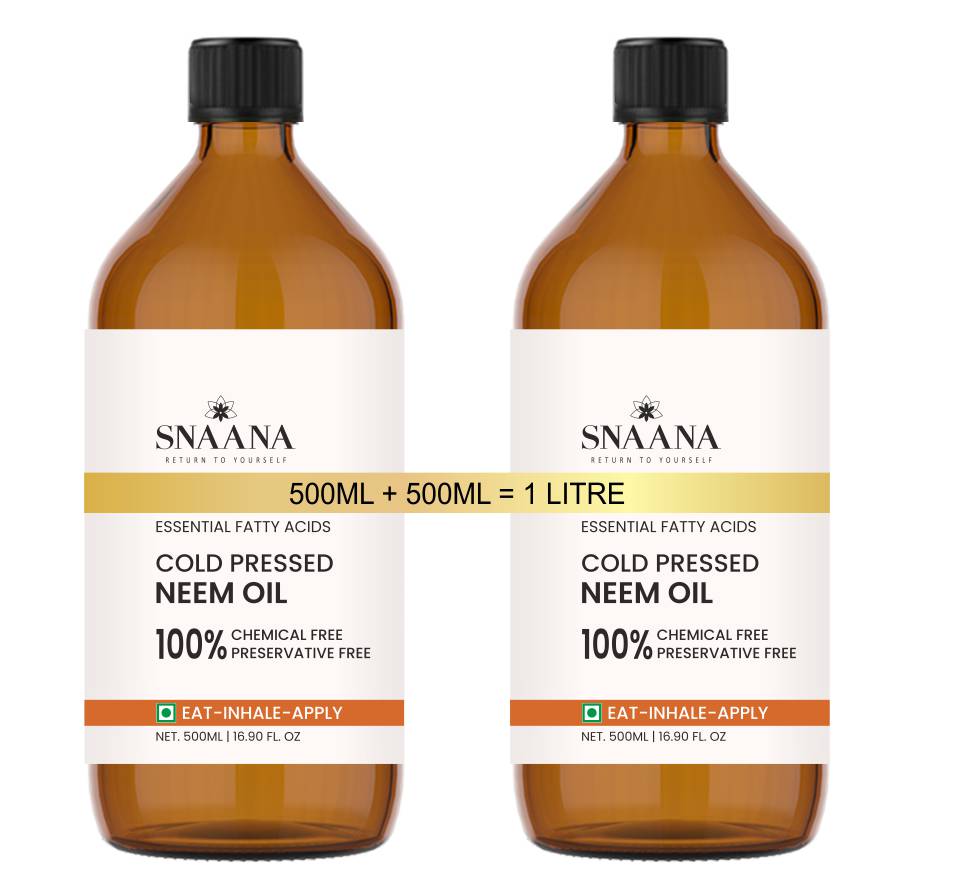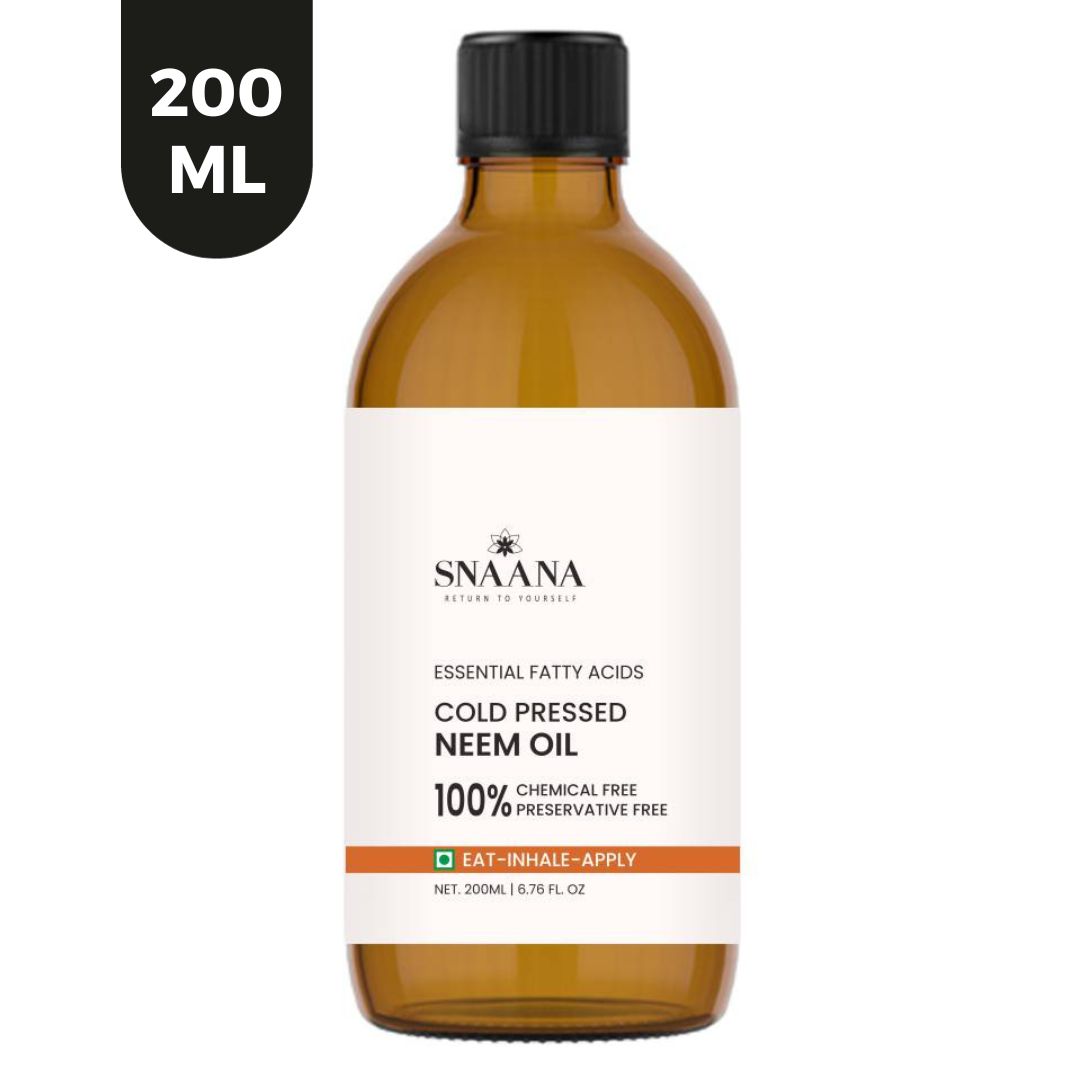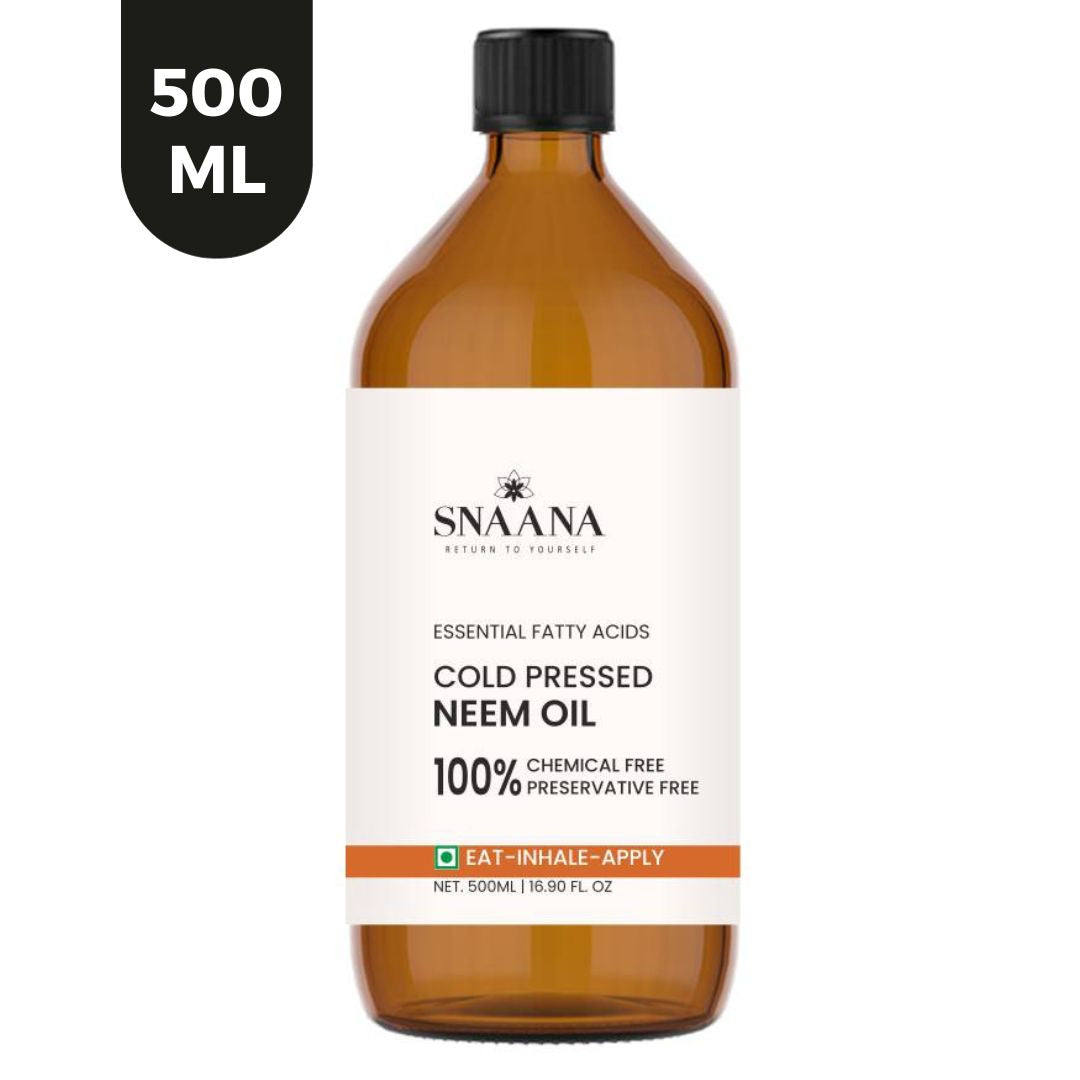 Edible neem seed oil
100% chemical & preservative free
SNAANA Cold-pressed Neem Oil is a multi-purpose natural product that helps take care of one's personal hygiene and health. It is rich in fatty acids, linoleic acid, palmitic acid, oleic acid, and stearic acid. It is extensively used in aromatherapy, oral care, wellness remedies, skincare, and insect repellent.
Neem Oil is extracted from the Neem seeds through a cold-pressed method. A few notable properties that are found in pure cold-pressed Oil include anti-bacterial, analgesic (for relieving pain), anti-aging, and contraceptive.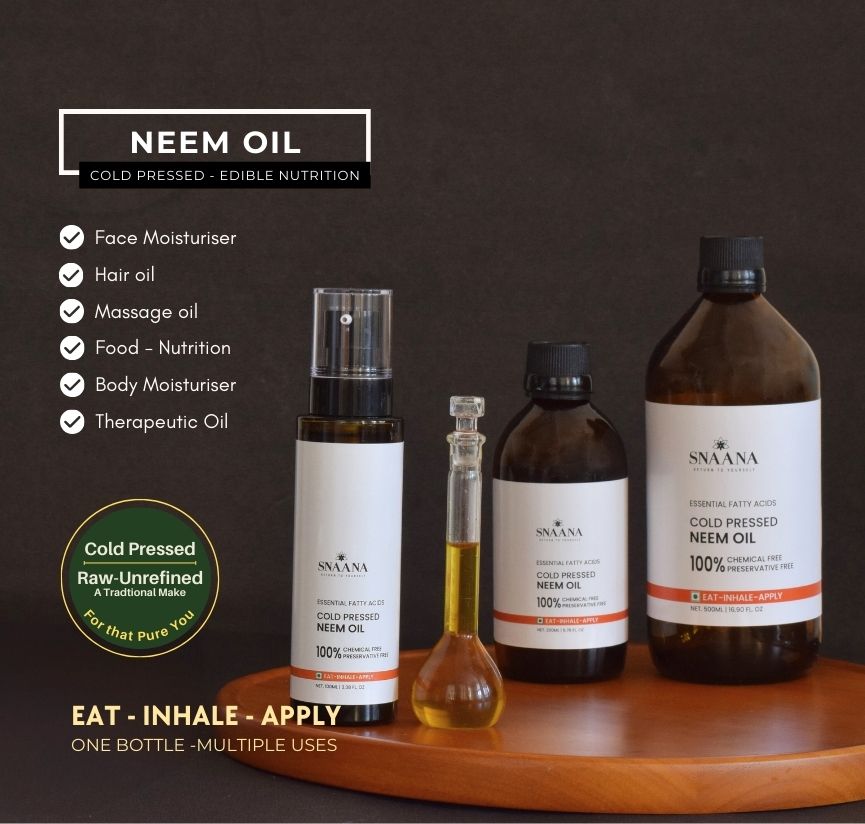 One bottle multiple uses
Benefits of using cold pressed neem oil
# Powerful anti-inflammatory properties soothe irritated skin
# Fights acne and helps control breakouts
# Acts as a natural remedy for eczema and psoriasis
# Moisturizes and nourishes the skin
# Addresses dandruff and scalp infections
# Strengthens hair and promotes a healthier scalp
# Boosts immune system with its antioxidant content
# Suitable for oil pulling to promote oral hygiene

Collapsible content
How to use

For Acne: Apply 1 to 2 drops of Oil on the affected area of the skin. Leave it for 15 to 20 minutes then rinse off. Repeat this two times a day. The antiseptic and anti-inflammatory properties kill harmful bacteria, reduce inflammation and eliminate impurities from the skin, and tighten the pores.

For Eczema: Apply 5 to 8 drops of Neem Oil on the affected area. Leave it for 20-30 minutes. Dab off excess oil with a piece of cloth, cotton, or tissue. Repeat this 2 to 3 times every day. This oil is helpful in reducing the itching and redness of the skin.

For Wrinkles: Gently massage the face and neck area with Oil for 5 to 10 minutes. Do this at night for a month to reduce wrinkles. This oil has strong antioxidant and anti-aging properties that can help protect the skin from free radicals.

For Toothaches – Massage a drop of neem oil on the concerned tooth and do not eat and rinse for the next 30 minutes. Follow it with 2-3 times a day application for 3-4 days.

For Scabies: Add 3 to 4 tablespoons of Oil in warm bathing water. Soak your body for 15 to 20 minutes. Do this two times a day. This oil will reduce the itching and redness of the skin. It will soothe the skin and remove toxins and also, gives you relief from the rashes caused by scabies.
Precaution

Always do a patch test/suitability test when using the product for the first time be it application or consumption. Avoid heating the oil – it is not suitable for deep frying purposes.

Care for the product

Always store the oil in a cool and dry place. The oil is good to use for a year from the date of cold pressing.
Handle the bottle with care as it is made up of glass. Natural products may go bad in a short time when stored in plastic. An Amber color bottle is a natural shield to prevent damage from light and sun. Our products are completely free from synthetics and preservatives.

Choosing a selection results in a full page refresh.
Opens in a new window.