Therapeutic Herb water/Ark
Regular price
Sale price
Rs. 520.00
Unit price
per
Sale
Sold out
The steam distilled edible clove hydrosol/herb water is best used to add flavor & nutrition to food & beverages, tone skin, treat & prevent dental concerns and promote good health & wellness. This organically prepared one bottle with multiple uses is a highly therapeutic & nourishing boost for the body. 

100% Chemical & even preservative free 

SUITABLE FOR - Eat – Inhale – Apply 
Highlights
International Organic certified

Our products are COSMOS certified, UK cert certified, USOCA Organic Certified.

Quality guaranteed product

We are proud of what we make because we make everything with pure ingredients minimally processed through our traditional technique to retain nutrients, aroma & wholesome goodness. So we believe that once you try you will feel the difference and fall in love with purity. However we understand that every product does not work for every body hence we have made it easy for you to try our products without any risk.

We offer a full product satisfaction guarantee. If it turns out that a product isn't for you we will happily exchange the product Once for you, costing you only the to & fro shipping to try a different product. Just make sure to get back to us within 2 weeks of its delivery.
All that we want from you is just the feedback as this helps us understand and continue to create natural daily use products so please stay true to us to help us serve you the best.

GMO Free

The ingredients used in the product are free from GMO's

Tested on Humans

All our products are tested on humans. Be it ready to use products or ingredients of the products, all testing is performed on humans. All products are made using time -tested & edible ingredients and no chemicals.

CO2 Neutral certified

We make use of manpower for making our raw material & final product with minimal processing using traditional techniques. Our reliance on electricity or machinery is negligible as we can produce SNAANA products on a day with no electricity. To neutralize logistics etc. related emission, we have developed our own fully sustainable fruit orchard with more than 1700 trees.

100% chemical free

We make no use of chemicals/synthetics at all. Hence the nutrition, texture, aroma, colour are all derived from the ingredients like cold pressed oils, essential oils, ark etc. 
100% preservative free

We bring authentic, age old formulations where modern day preservatives were just not known to humans. We do not alter the physical form of the ingredients and retain the nutrition in their original state with just hand processing similar to achar making. A jar of achaar lasts for years without preservative if made the traditional way.
Connect with Farmers

Since we work to bring unaltered goodness, pure blends, which is possible only through our connect with farmers that provide us with genuinely good quality raw material in the forms of nuts, seeds, roots, stems, petals, leaves, barks etc.

Dermatologically Tested

All our products are tested in the lab for various parameters like pH, heavy metals, microbial etc. and tested on humans by dermatologists.

Transparency

We are the only brand who stay very much true to claims like NATURAL, CHEMICAL FREE, ORGANIC etc. We bring videos to you to show all our working from farms to bottles and jars. We list all ingredients in common parlance to ensure our consumers understand easily what all is the part of the product they are likely to use. 
Ingredients

Steam distilled hydrosol/ark of clove
USP

100 ML= U.S.P (PER ML) Rs. 5.2/-
200 ML= U.S.P (PER ML) Rs. 4.16/-
500 ML= U.S.P (PER ML) Rs. 3.32/-
1 LITER = U.S.P (PER ML) Rs. 2.83/-
Manufacturer Details

Aadhunik Ayurveda Vitals

Khasra No.-79, Gali No.1, Titan Road,

Mohabewala, Industrial Aria, Dehradun

248001 Uttarakhand
Guaranteed SAFE Checkout
FREE Worldwide shipping on orders worth Rs. 15,000 & above
View full details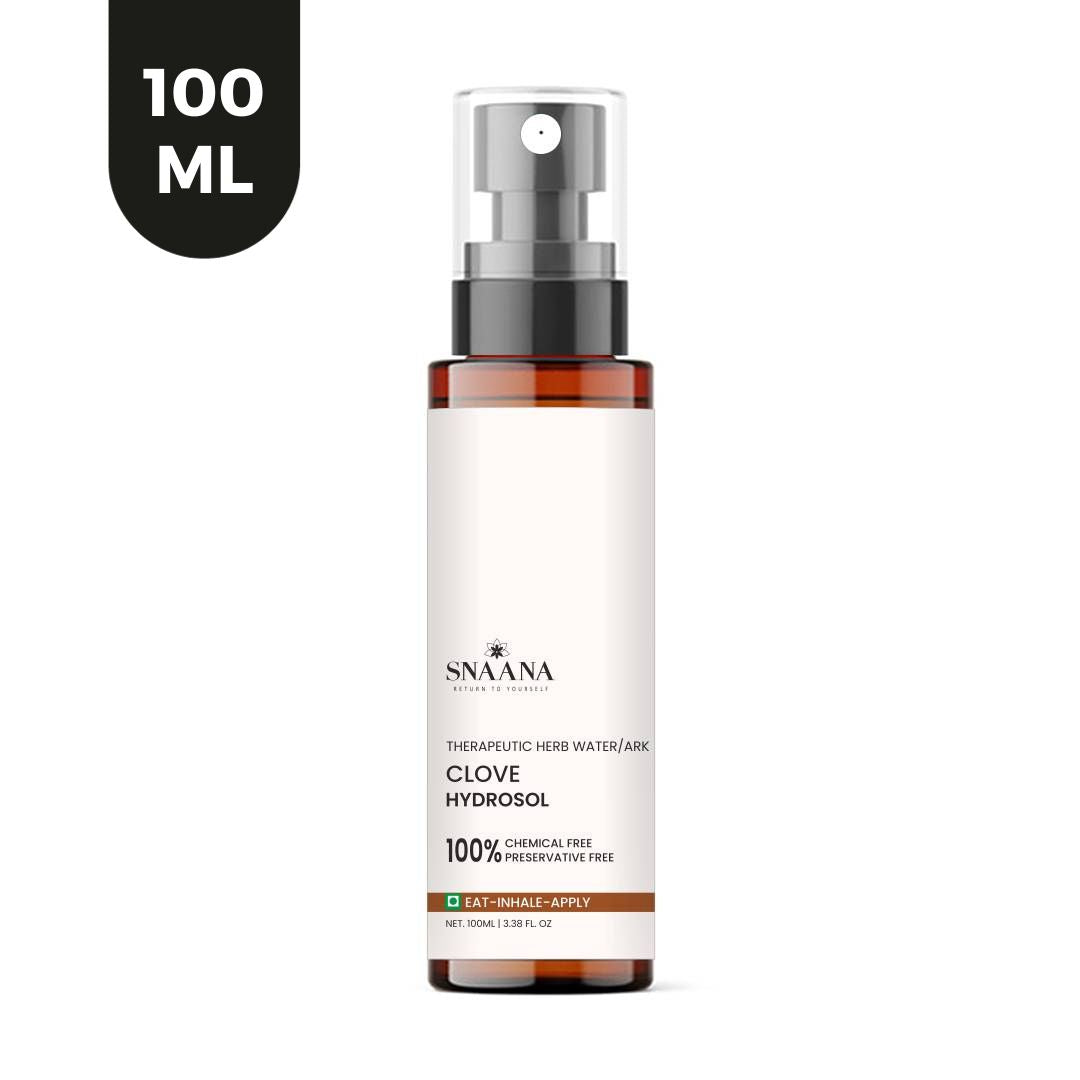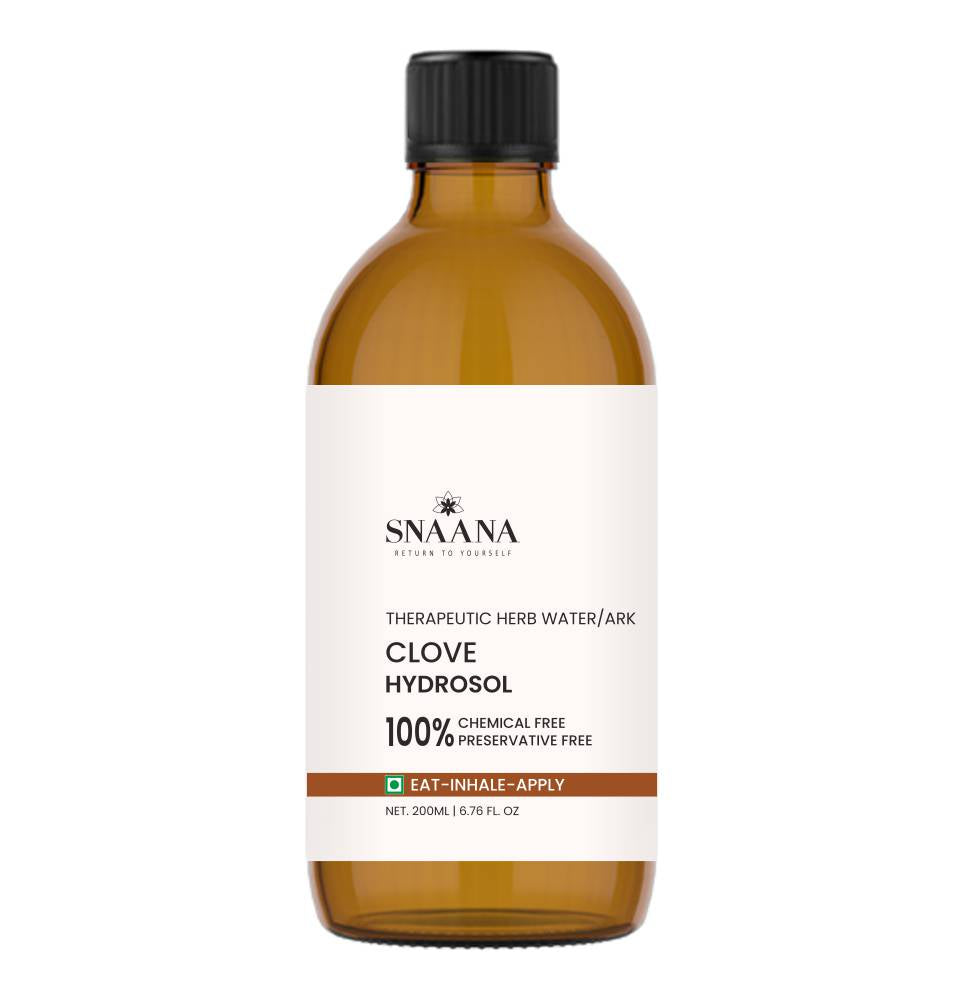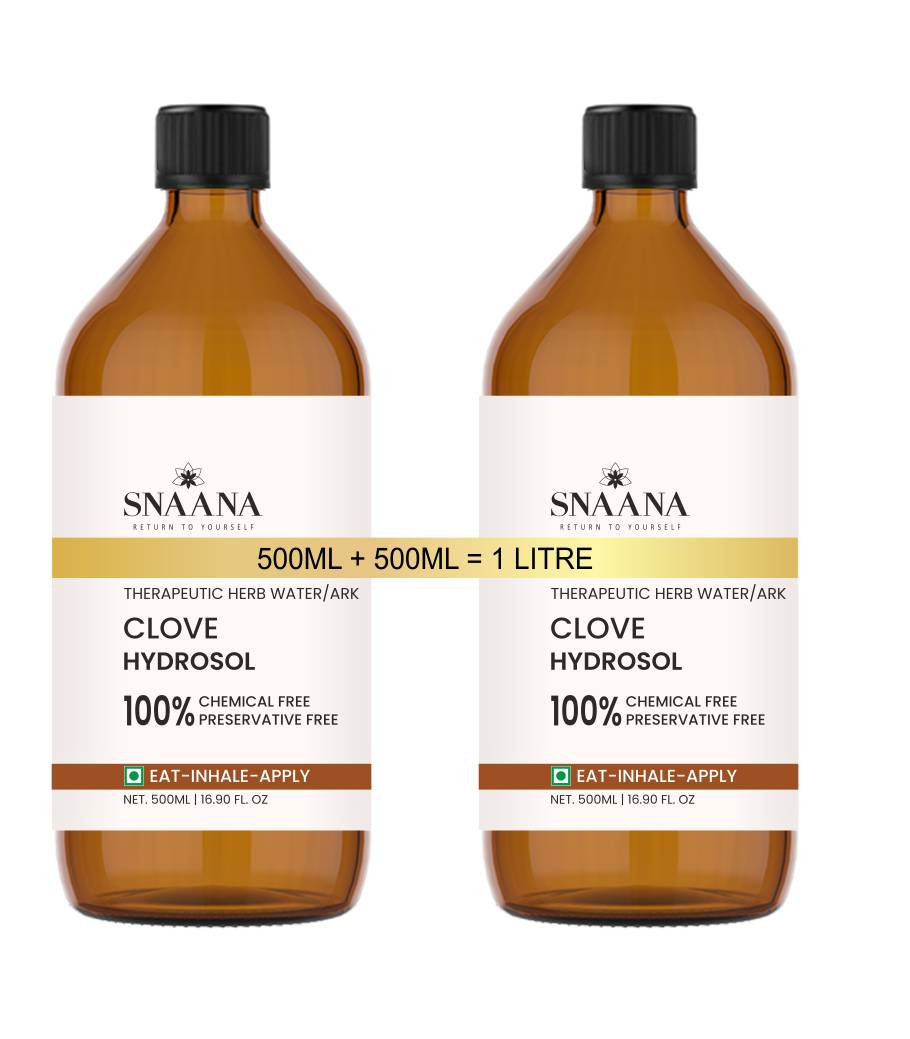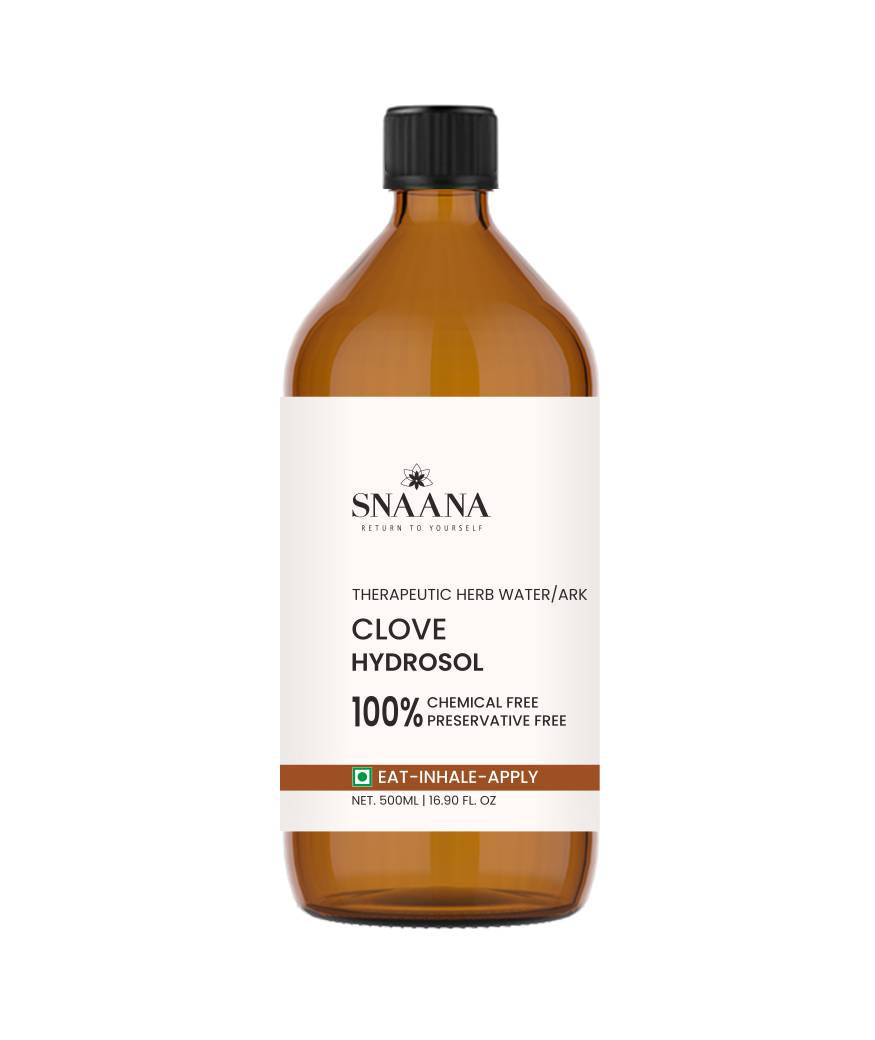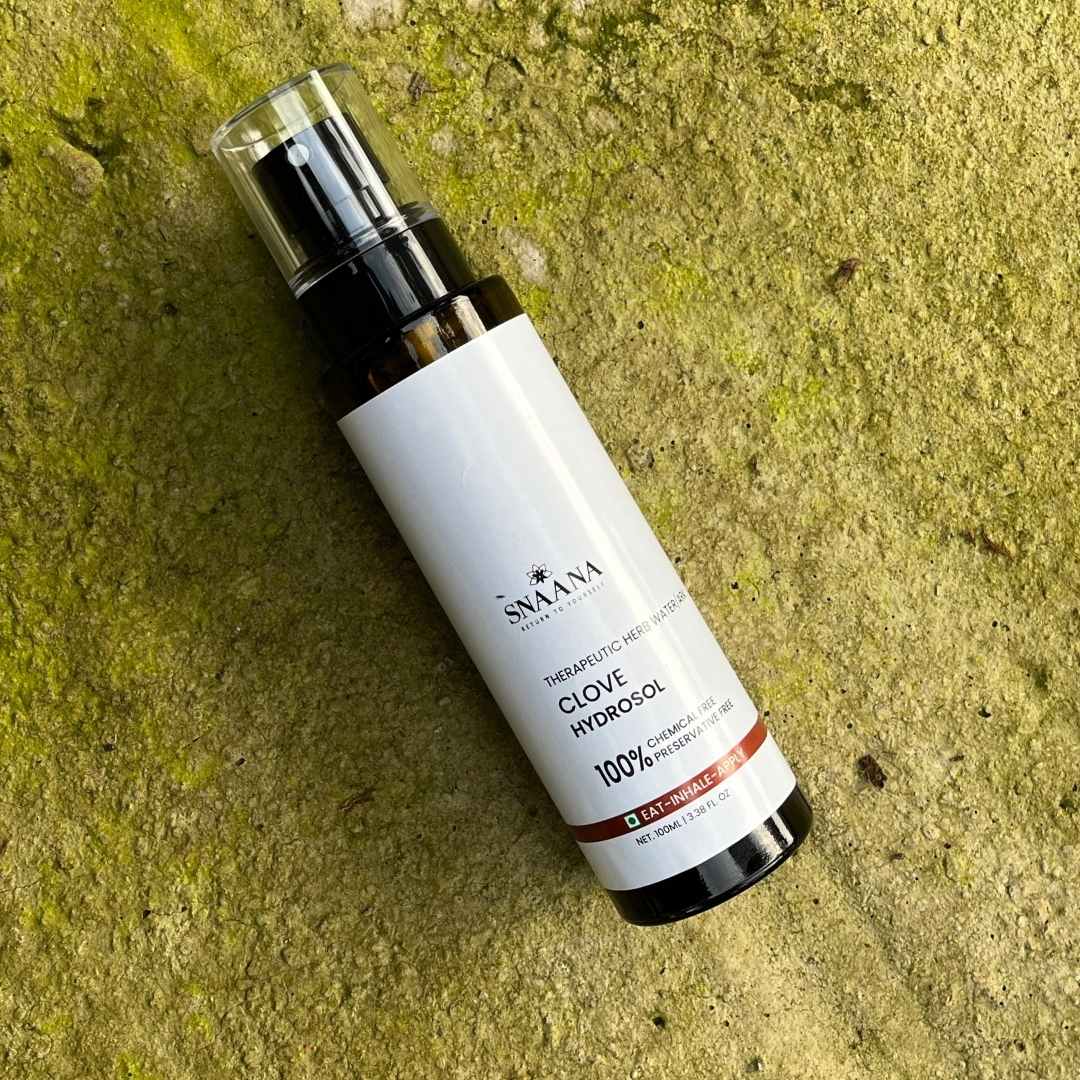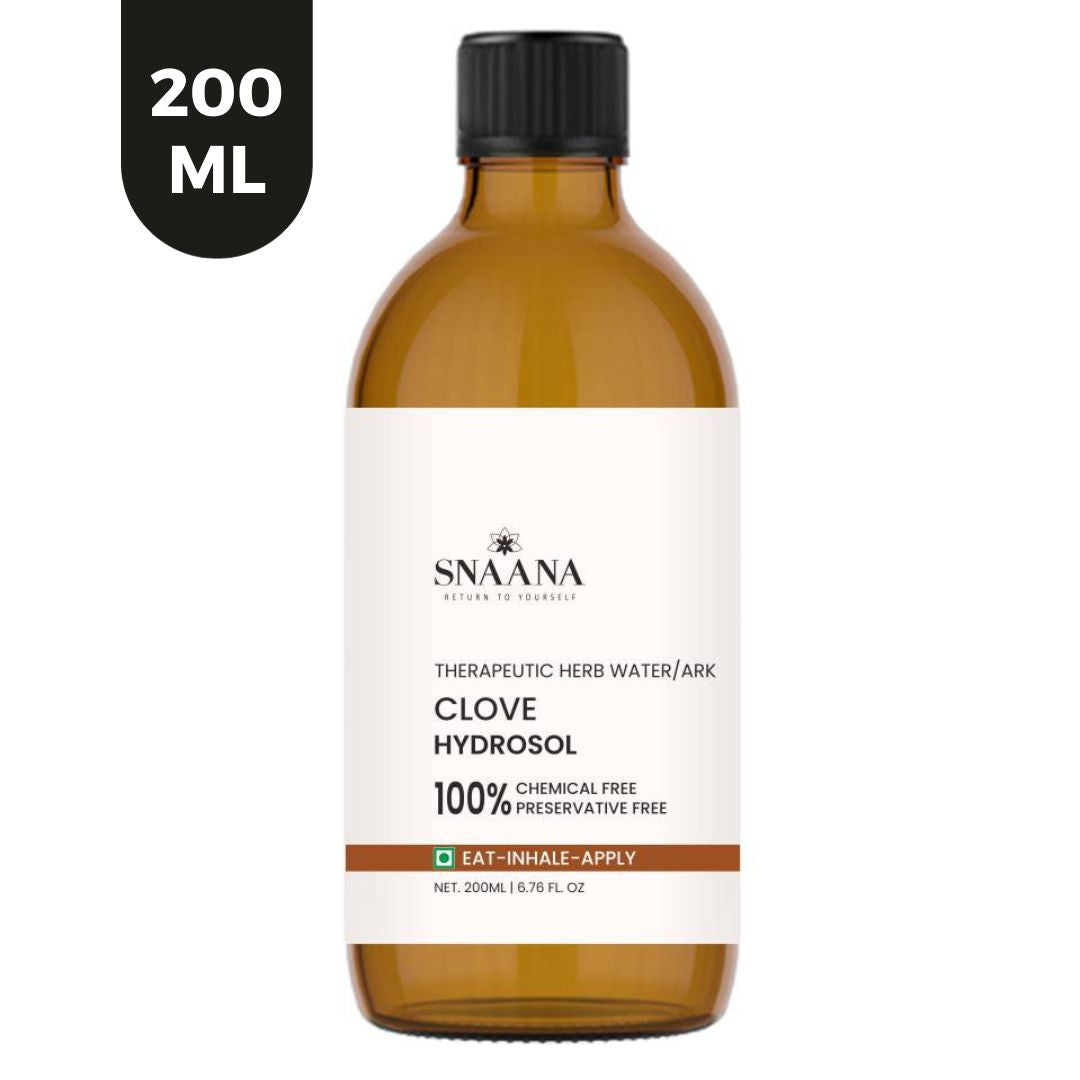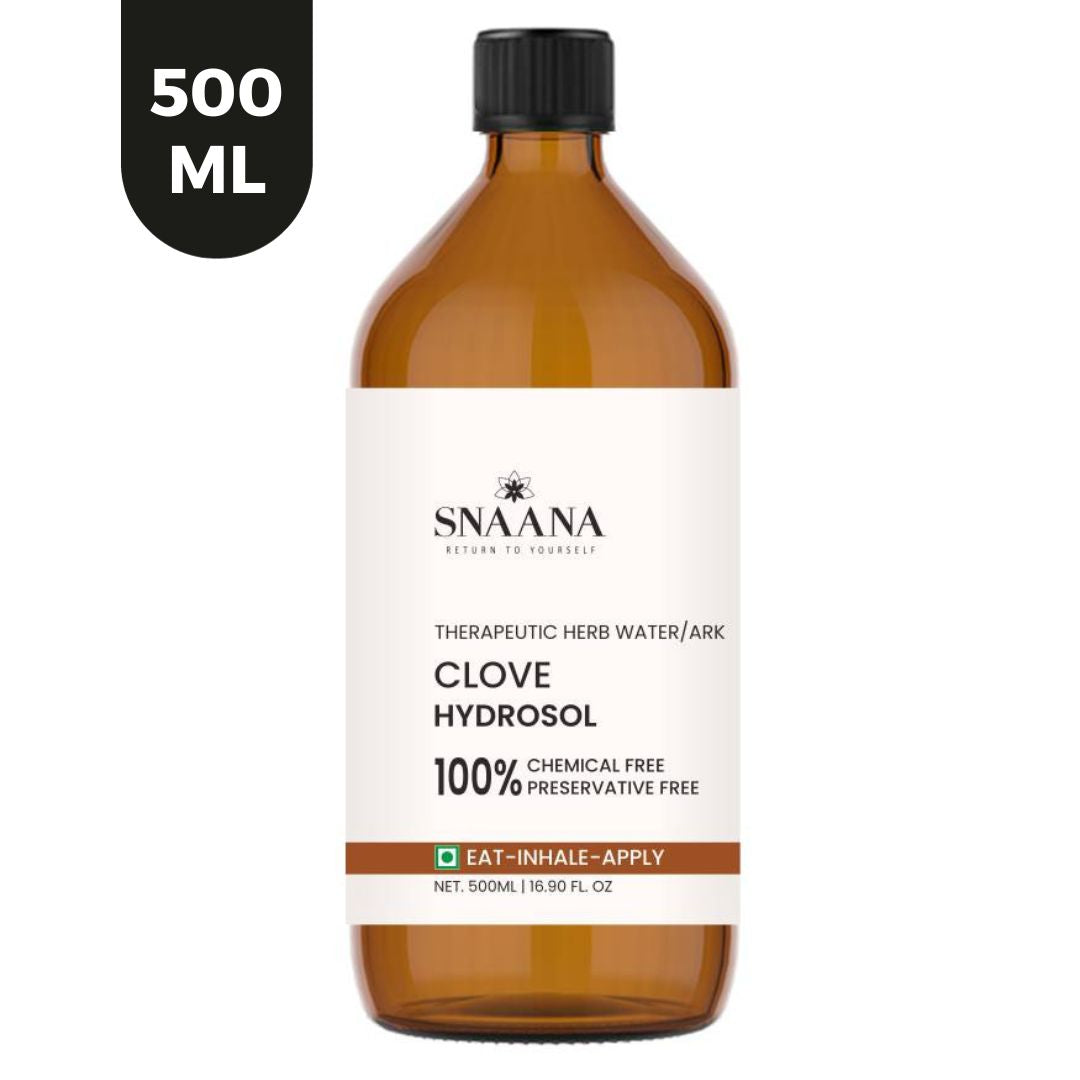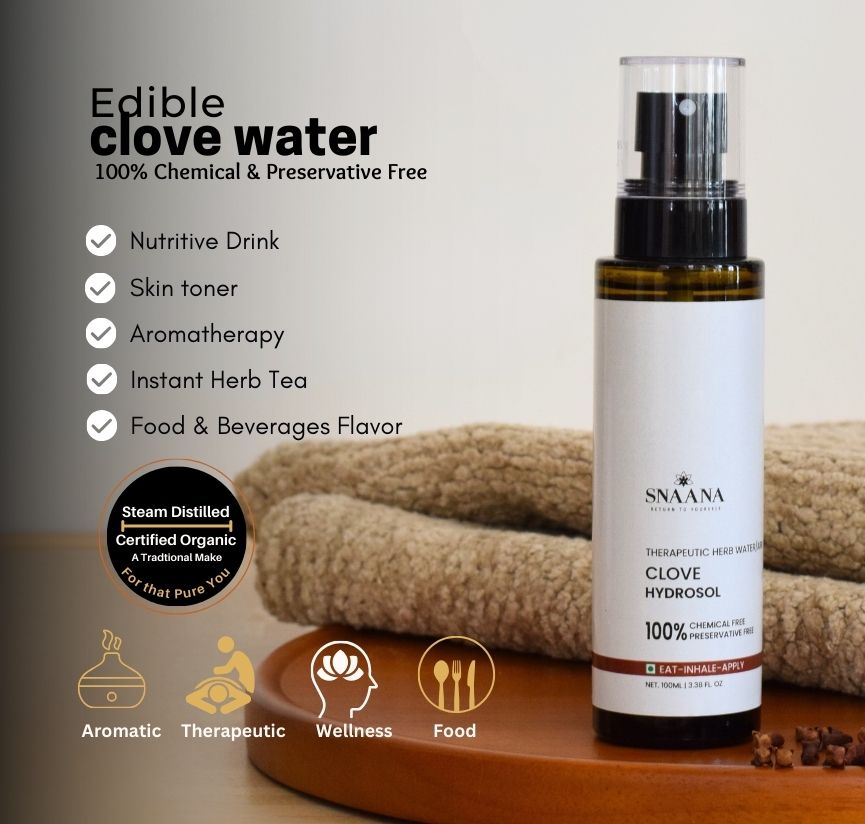 One bottle Multiple uses
100% chemical free & preservative free

Clove is a known ingredient in the preparation of kadhas for amazing medicinal benefits. The herb is warm in nature and helps pacify Kapha dosha imbalance in the body. It's a good herbal treat and works for dental/oral problems, poor blood circulation & indigestion issues, respiratory disorders, and much more.

SNAANA prepares Organic clove water -Ark through the traditional technique of steam distillation which is quick & convenient to consume & carry.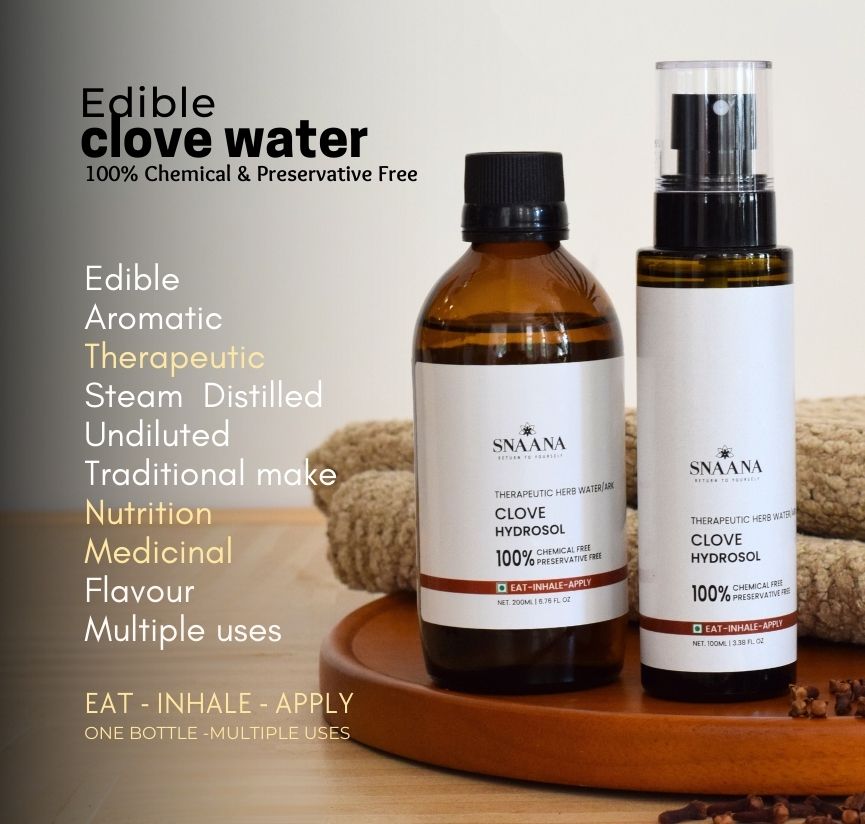 Edible Clove Herb water
Steam Distilled Pure clove herb water benefits body, skin & hair.
# Immunity booster – Fight free radical damage & help build immunity in the body.
# Oral care – Best natural care for oral problems like toothache, sore gums, bad breath & mouth ulcers.
# Improves metabolism & digestion – inhibit bacterial growth, ease nausea, vomiting & diarrhea.
# Cough Relief– Calms the irritation in the throat and overcomes the respiratory disorders.
# Minimise acne pimples – Clove inhibit bacterial growth making skin healthy.
# Grey hair & hair fall – May help prevent grey hair and control hair fall.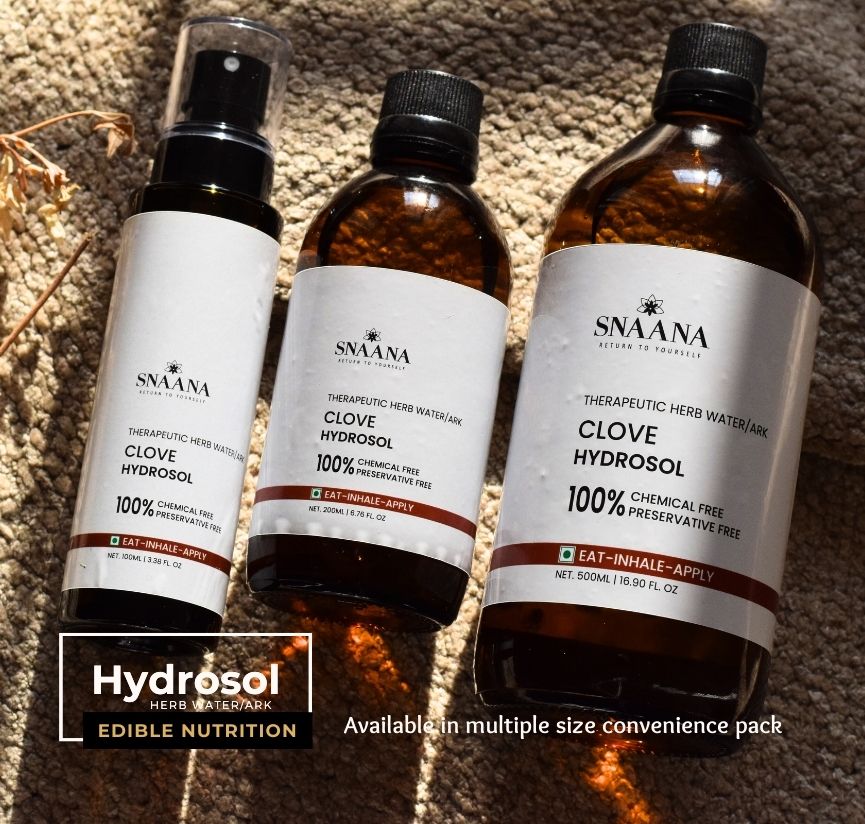 Steam Distilled Edible Clove Hydrosol
The use of purely traditional techniques with a strong connect with Indian farmers for fresh organic herb help SNAANA bring this pure ark of different herbs with just no chemicals and not even preservatives convenient to practice healthy skin care, food, health & wellness routine.

Buy now & feel the difference of purity.

100% chemical free & preservative free.
Available in multiple sizes in user convenience packs.
Collapsible content
How to use

Skin care - Use clove water as face mist/toner in place of regular toner.

Hair care - Mist the roots after shampoo when the hair is semi dried to deliver nutrition to the hair.

Food & Beverages - Add clove water to cooked food and beverages for flavor and nutrition.

Herb Tea - Add about 1-2 teaspoons or 8-10 drops to a cup of warm water. And enjoy the clove tea. You may add more for a stronger tea. This works like a wellness drink.

Diffuser - If you like clove aroma, you may add clove water to the diffuser tub and turn it on. Add plain water if you want to light the aroma.

Dental Care - Mist clove herb water inside the mouth and sip some water. Run water through the teeths and spit out.
Precaution

Please do not use the product if you are allergic to clove. Though the product is absolutely free from chemicals and preservatives, we suggest you do a patch/intake test before using it as a regular product. Consume it only under the guidance of a registered health practitioner.
Care for the product

Use the product within 2 months of opening the pack. Use it regularly to feel the benefits of using turmeric water. Apart from the 100ml mist dispensing bottle – keep other sized bottles in the refrigerator. Always close the lid tight immediately after use. Since 200ml & 500ml bottles are open mouth, ensure they remain free from contamination. This is because the product is 100% free from chemicals and preservatives and therefore calls for proper care.

Choosing a selection results in a full page refresh.
Opens in a new window.